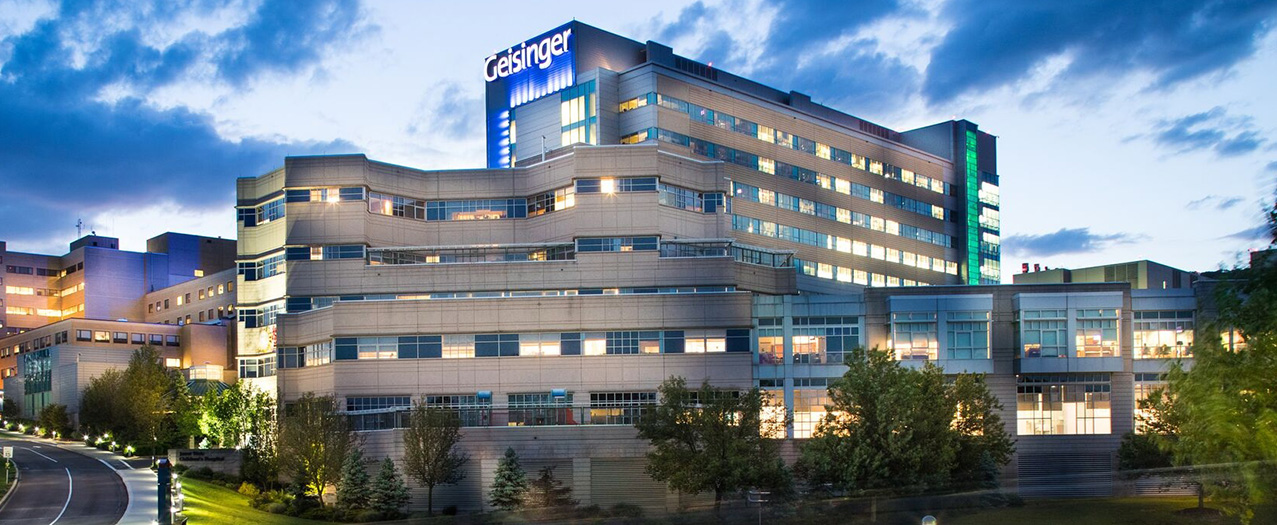 Central Pennsylvania is home to several excellent health care facilities including the renowned Geisinger Health System. Central PA counties are among some of the healthiest counties in Pennsylvania.
Geisinger Central Campus  – Danville, PA
Geisinger is a complete, integrated healthcare system, with hospitals, clinics, medical, health professions and nursing education and health insurance. Geisinger has more than 2,000 healthcare professionals and over 24,000 employees system wide. Geisinger offers modern facilities and is designated as a Comprehensive Stroke Center, Level I trauma center and is home to Geisinger Janet Weis Children's Hospital, the region's only children's hospital, providing the highest level of pediatric care across more than 30 specialties and subspecialties. Geisinger Medical Center made Newsweek's list of World's Best Smart Hospitals for 2023!
Geisinger Orthopaedic Center Pennsylvania  – Buckhorn, PA
In November 2021, Geisinger announced plans for a new $180 million orthopaedic care facility to be built serving the region and beyond. They broke ground in May 2022 and are expected to complete construction in 2024. The Orthopaedic Center Pennsylvania is part of Geisinger's ongoing commitment to world-class orthopaedic care closer to home for Pennsylvania residents The new facility in Buckhorn will be located off Mall Boulevard near the Columbia Mall, so community members don't need to leave the area for advanced bone, joint and muscle care. Surpassing large-scale orthopaedic hospitals in major metropolitan areas, The Orthopaedic Center Pennsylvania will serve patients in central and northeastern Pennsylvania and beyond by featuring specialized operating rooms and a dedicated inpatient unit focused on recovery and mobility after surgery. An on-site outpatient clinic will focus on wellness, injury prevention and bone, joint and muscle health. Also planned are an imaging center and pharmacy, as well as outpatient rehabilitation, physical and occupational therapy services. 
Evangelical Community Hospital – Lewisburg, PA
A 162 bed facility serving the Central Susquehanna Valley, including those living in Lycoming, Northumberland, Snyder, and Union counties with inpatient services, and access to a network of specialty services and practices not typically associated with community hospitals including orthopedics, surgical care, diabetes care, wound and hyperbaric medicine, pain medicine, physical therapy, a dedicated breast health center, urgent care, primary care, and much more. There are over 170 employed and non-employed physicians and 75 advanced practitioners on staff and 1900 clinical and support professionals. Recently completed a $72 million capital improvement project add a 112,000-square-foot, 4-story new addition renovation of 20,000 square feet to provide private rooms and private bathrooms.
Mount Nittany Medical Center – State College, PA
A 260-bed acute care facility based in State College PA offers advanced medical, surgical, diagnostic, and community services to help patients reach their healthiest potential. Part of the Mount Nittany Health family, and one of the region's top places to work, the Medical Center employs about 2,300 skilled healthcare professionals and support staff, and credentials hundreds of employed and non-employed physicians in more than 70 specialties and subspecialties.
Penn Highlands – State College, PA
Penn Highlands purchased lands in 2019 for $6.96 million and land development plans were approved by Patton Township supervisors in April 2021 to construct a new $70 million hospital and medical office building. The facility is scheduled to be completed in Spring 2024 and will be a three-story, 82,000-square-foot hospital and two-story, 32,000-square-foot medical office building  that will include an emergency department with 10 private treatment rooms and a trauma room; a surgical department with three high-tech operating suites and an endoscopy procedure room; 18 private inpatient rooms; a medical imaging department; and a pulmonary function lab for screening diagnosis and treatment. The medical office building will offer a walk-in clinic; family medicine, pediatric and specialty care physicians; obstetrics and gynecology services; women's medical imaging; lung and heart centers; laboratory services; and a retail pharmacy with drive-through service. It will also house the Penn Highlands Hahne Cancer Center, which will include multiple oncologists, multidisciplinary care, infusion and radiation services and a linear accelerator.
Geisinger Lewistown Hospital – Lewistown, PA
Geisinger Lewistown Hospital was named as one of the nation's top 100 rural and community hospitals by the Chartis Group, the nation's largest independent healthcare advisory firm. This recognition is regarded as one of the industry's most significant designations of performance excellence. Geisinger Lewistown Hospital has been a part of the Geisinger family since 2013, providing high-quality, coordinated, patient-centered care for residents of Mifflin County and beyond. The hospital has been part of the Lewistown community for more than 100 years since first opening in 1908. The hospital campus has grown over the decades to include the Geisinger Lewistown Hospital School of Nursing and outpatient and specialty care services, including a maternity center, psychiatric unit, surgical center with robotic surgery options, women's health services and wound healing institute.
Geisinger Shamokin Area Community Hospital – Shamokin, PA
As a campus of Geisinger Medical Center, GSACH is part of central Pennsylvania's most complete community hospital, offering many services that are not available anywhere else locally. With many nationally recognized, award-winning specialty areas and modern facilities, virtually every type of care needed is provided. Construction began in August of 2021 on a $10 million multiphase project to expand and update the Emergency Room. The work is expected to be completed in early 2023 and once complete the ER will double in size, expanding to nearly 11,000 square feet with 19 private exam areas. Neighboring laboratory and imaging areas will also expand, including a new computed tomography (CT) machine used to get a detailed scan of patients.
UPMC Susquehanna – Williamsport, PA; Muncy, PA; Lock Haven, PA; Wellsboro, PA; and Coudersport, PA
An alliance of hospitals with 24-hr emergency service, a total of 332 licensed acute and 259 long-term care beds, along with two skilled nursing units, home care division, physician services and ambulance service. UPMC Susquehanna in Williamsport recently invested in a significant campus capital improvement project totaling 370,000SF at a $250M investment.
Central PA is home to many of the top healthiest counties in the state!