2023 Virtual Industrial Development Forums
Next IDF 2023: Wed, June 28th, 2023 from 11 am to 12:30 pm via Zoom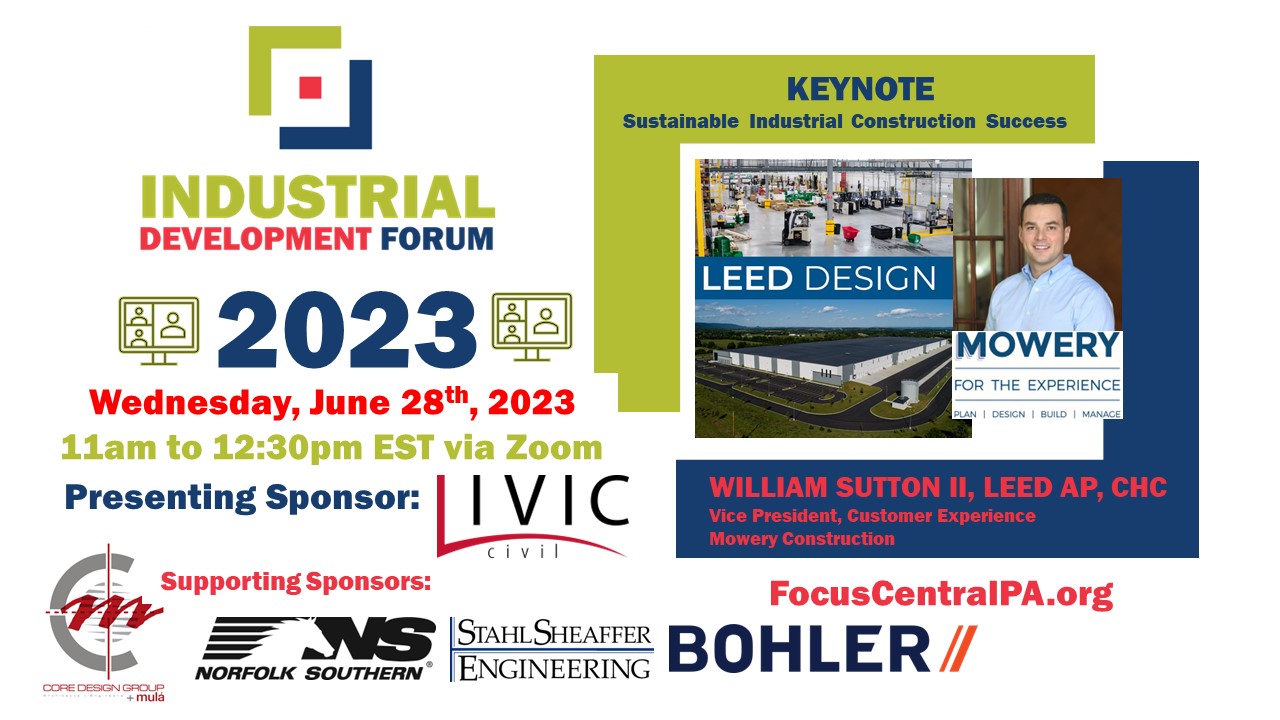 Countdown to IDF 2023 June Virtual Forum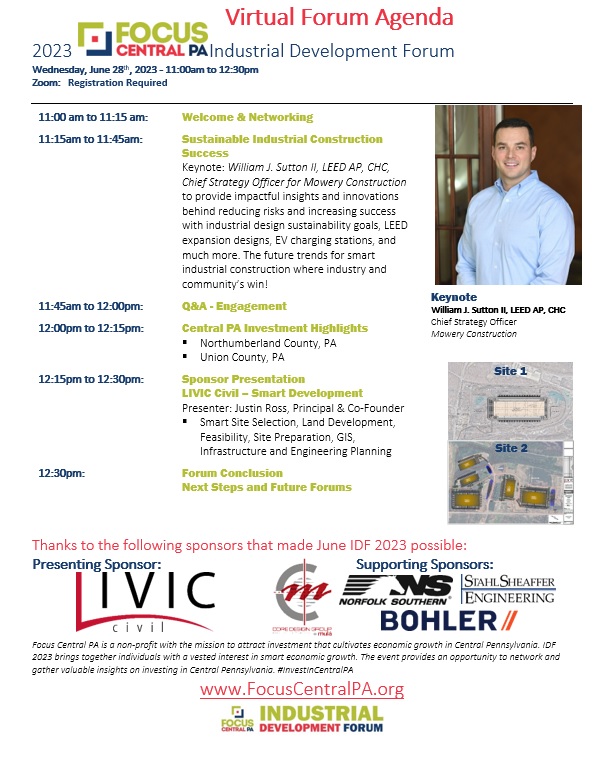 June IDF 2023: Sustainable Industrial Construction Success – Keynote:
William J. Sutton II, LEED AP, CHC, Chief Strategy Officer for Mowery Construction
to provide impactful insights and innovations behind reducing risks and increasing success with industrial design sustainability goals, LEED expansion designs, EV charging stations, and much more. The future trends for smart industrial construction where industry and community's win!
Learning objectives from keynote presentation:
– Understand the various ways that an industrial facility can reduce their environmental impact during construction and into operation
– Determine ways to measure and reduce energy, water and waste
– discuss emerging technologies which are making their way to industrial facilities
– review some recent case studies of highly sustainable facilities and how they accomplished this task
Focus Central PA is offering a schedule of FREE Industrial Development Forums virtually in 2023 to build off the successful attendance and engagement of the IDF 2022 forum where over 300 likeminded professionals convened that had an interest in investing in Central PA or interest in supporting smart economic growth and investment. These virtual events will provide value add information on critical topics impacting investment and smart economic growth decisions today and provide an opportunity to network with investors and partners in Central Pennsylvania.  
Each virtual forum will provide time for networking and engagement, a keynote presentation on a critical investment topic, highlights on investment WIN projects throughout the region, a presentation from a partner sponsor with valuable content and an overview of upcoming events and initiatives to accomplish the mission to attract investment that cultivated economic growth in Central Pennsylvania!  Register for one of the events today! Sponsorship opportunities available, if interested contact Lauren Bryson, lbryson@focuscentralpa.org, 844.293.8719.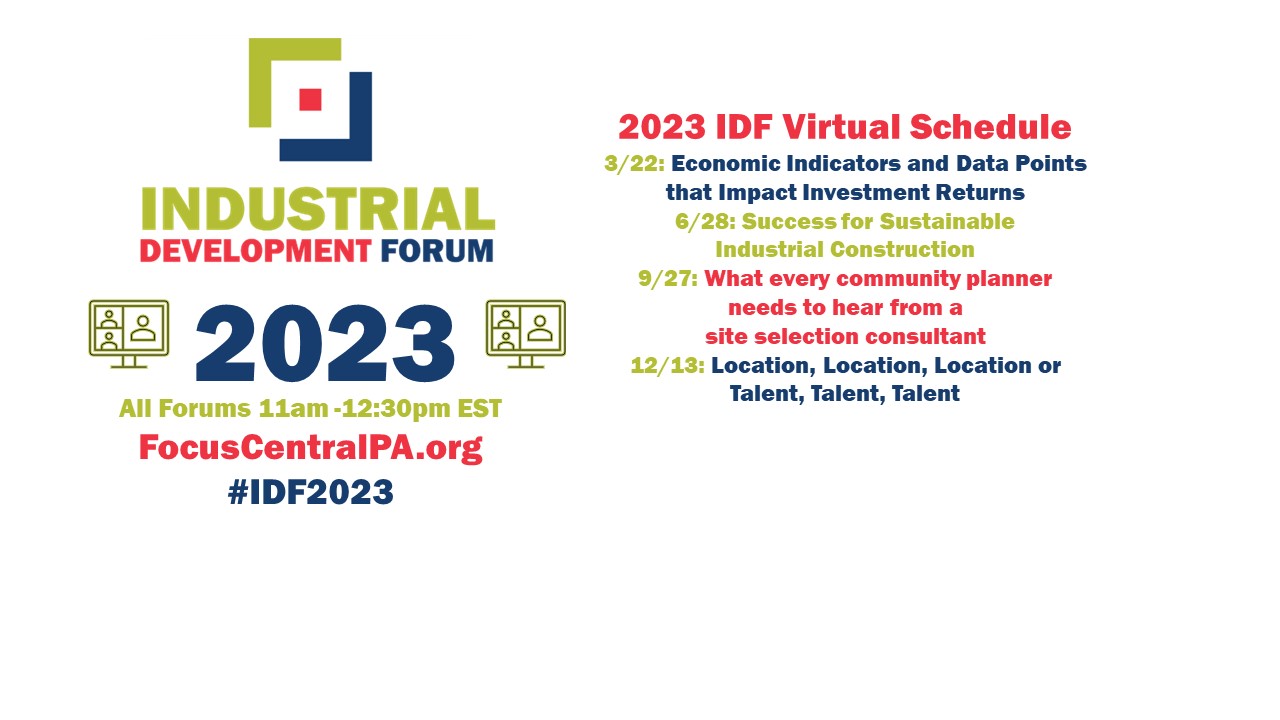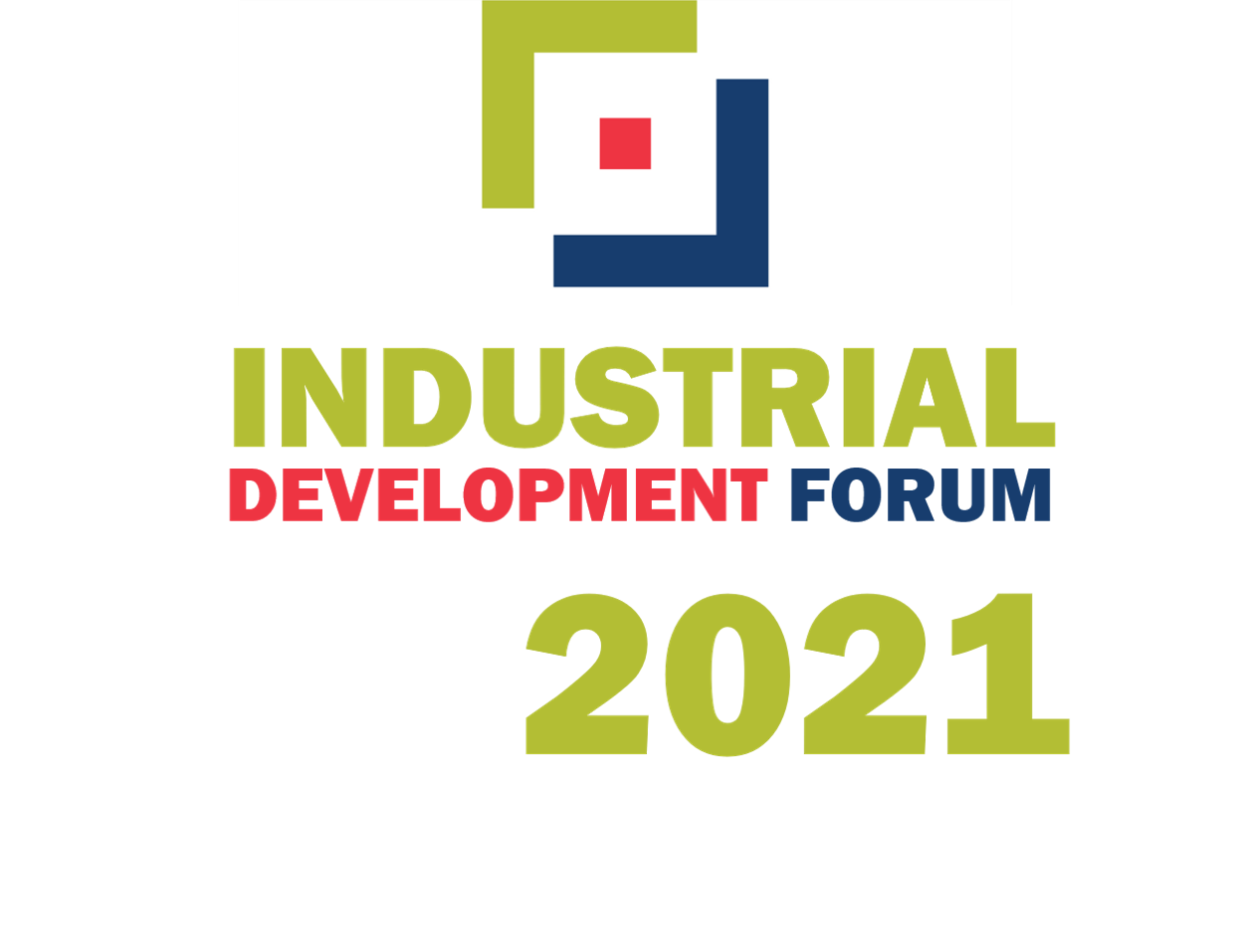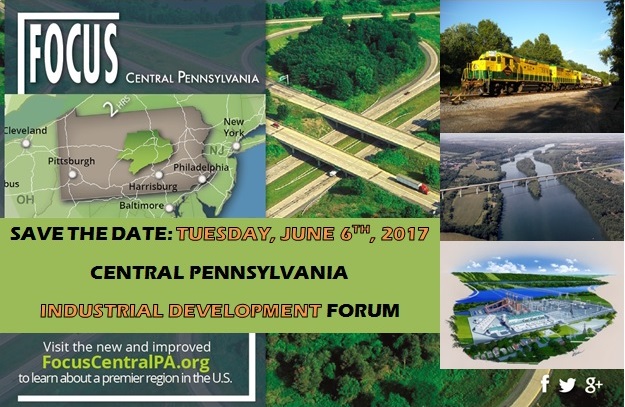 On Tuesday, June 22nd, 2021 Focus Central PA hosted a live online forum from 8am to 2pm from MYNDDSET's studio in Danville, PA. The live online event brought together over 200 individuals that have a passion and interest in industrial and smart economic growth in Central Pennsylvania. The forum celebrated investment successes; elevated the importance and details behind attracting and supporting quality investments; and engaged all that participated in generating ideas on how to increase capacity to drive smart economic growth in Central PA. IDF 2021 Event Program; IDF 2021 Recap
Keynote Presentation: Shell Appalachia's Investment Part I Part II
Keynote Presentation: State of Industrial Real Estate in Northeast USA